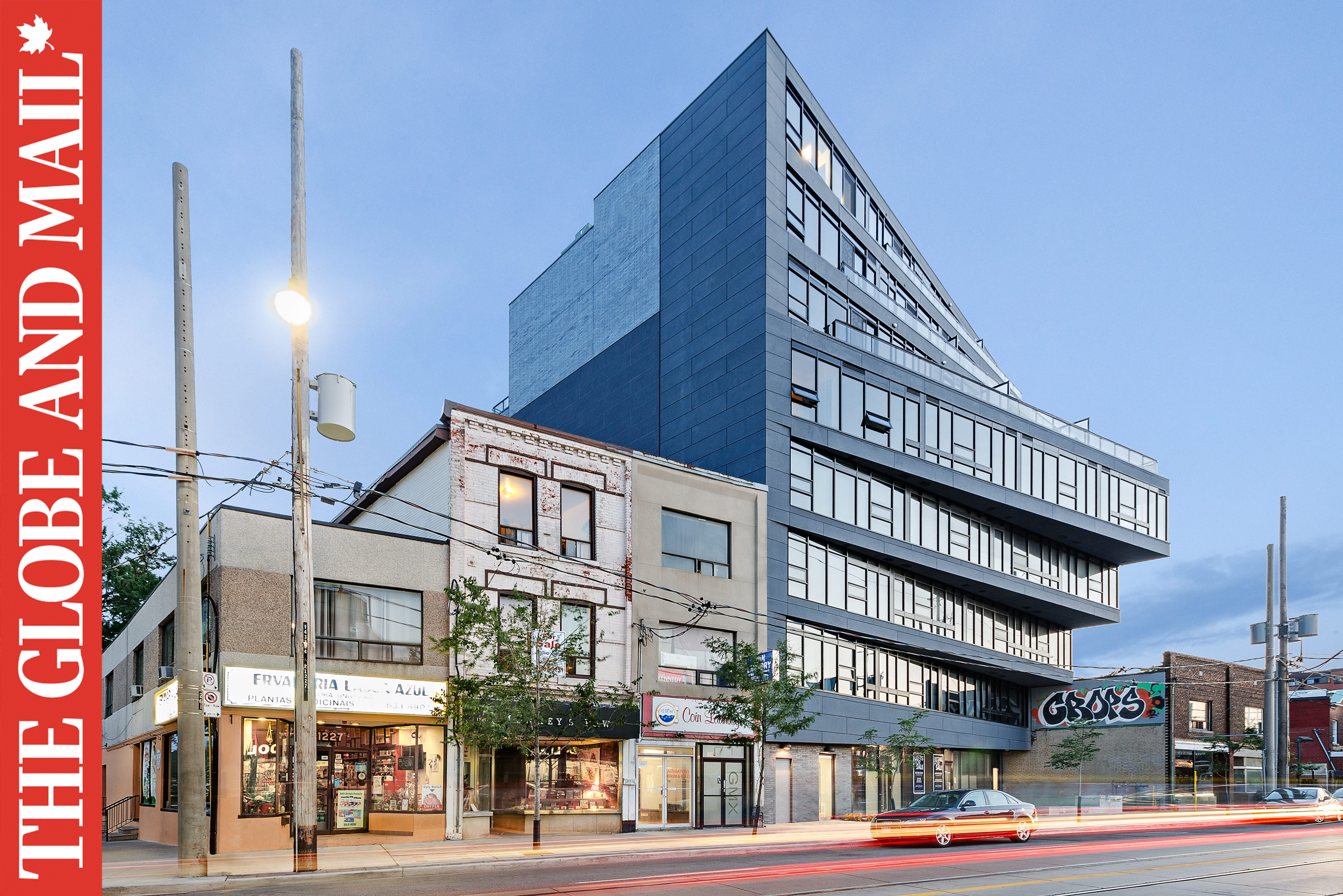 A condo steps from blueprint to concrete
*As published in The Globe and Mail on May 14, 2015
Because this paper is in the business of news, I usually write about multi-storey residential projects just as they are coming on the market.
Doing so is tricky. It involves guesswork and crystal ball-gazing, since one has to look past the dreamily idealized renderings supplied by developers and imagine how the buildings will appear and work after they're finished. The reporter also has to take care not to be stuck ankle-deep in hype, which is never thicker on the ground than it is during the initial sales period. Architects, for their part, are most eager to talk about their designs before their structures can actually be seen, warts and all. I rarely hear from them after my preview has surfaced in these pages.
I was pleasantly surprised, then, to learn a while back that Richard Witt, of Quadrangle Architects, wanted to show me Abacus Lofts, an eight-storey condominium complex he has designed for developer Antonio Azevedo in Toronto's Little Portugal neighbourhood.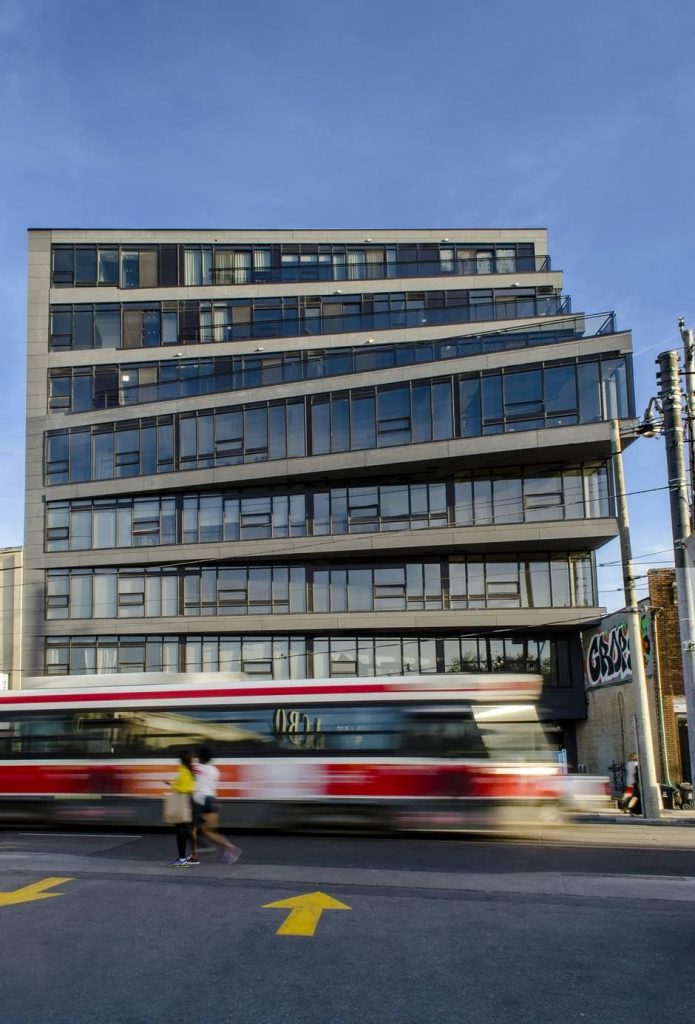 I knew something of the 39-unit project, having made it the subject of a column in early 2012, when sales began. (At the time, Mr. Witt was one of the principals at RAW Design.) In those days, of course, Abacus amounted to nothing more than an artist's impression, plans and a marketing pitch. But on the basis of those documents and a conversation with Mr. Witt, I had predicted Abacus would be "dramatic." Three years later, I decided it might be interesting to see if my prediction had come to pass. So last week, I took Mr. Witt up on his invitation and made my way to meet him and his publicist, Naomi Kriss, at the site, on Dundas Street West a block or so beyond Ossington Avenue.
The meeting was business-like. The architect showed Ms. Kriss and me the underground stackers, which provide parking spots for 18 cars in a space about the size of a church basement. We visited a small one-bedroom suite. We walked around the glassy, high-ceilinged retail area that opens on to Dundas Street.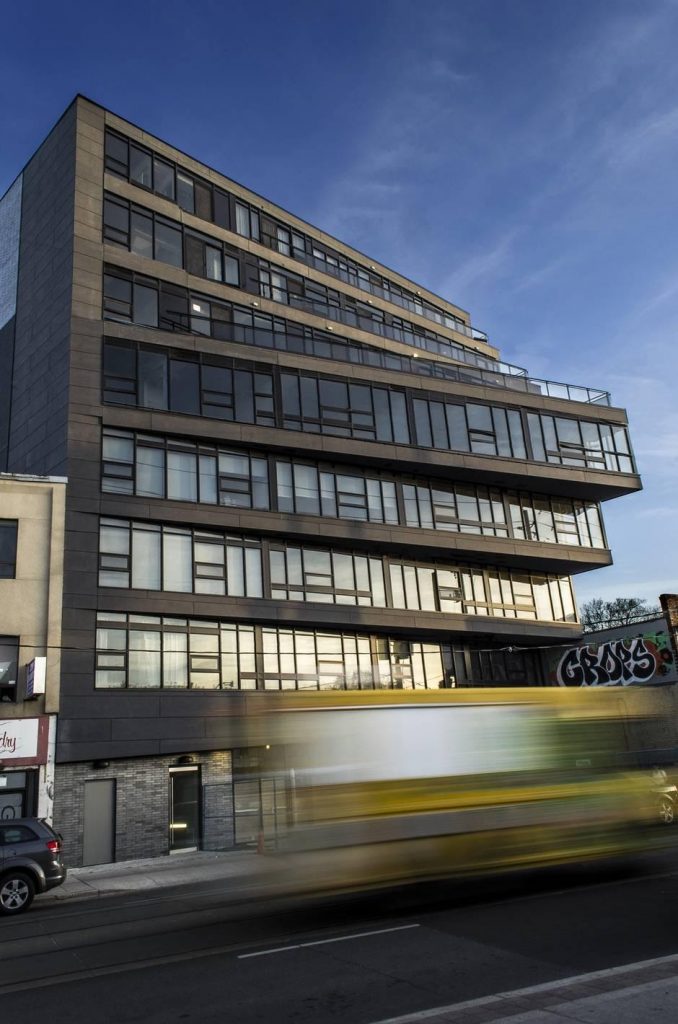 So far, we had seen little that couldn't be found in countless shiny new condo towers across Toronto – small units, tight corridors, a lobby as unceremonious and merely practical as a hallway, the inevitable store at grade. Then we stepped out of the store into the paved forecourt. Mr. Witt glanced up at the streetside façade and, with an acceptably modest gesture, said, "Pretty nice," or words to that effect.
What we had seen inside looked pretty nice – efficient, up to snuff. While not very interesting to the eye, the interior of Abacus is as aesthetically decent, I suppose, as that of many another condo project pitched, like this one had been, to investors, first-time buyers, couples without kids, empty-nesters. (We were told there is a penthouse apartment on top, but we didn't see it.)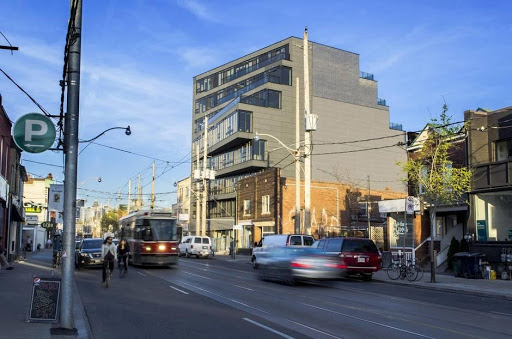 That said, the exterior, especially the side turned toward busy, noisy Dundas Street, isn't just nice, or whatever understated adjective Mr. Witt used to describe it. It is outstanding by any measure – bolder, more striking and expressive than I thought it would be when I wrote up Abacus in 2012. If the inside is routine, the outside is as formally sophisticated an interface between interior space and the city as you are likely to see anywhere in mid-rise Toronto.
An eight-storey building can behave in a few ways on an elderly low-rise street. It can try to hide. Or it can accept the fact that it is a large urban object, make no bones about its difference from the context and, indeed, be as different as possible. Abacus is a structure of the latter sort. Instead of lining up politely parallel to the sidewalk, for example, the bottom veers off from the street at an acute angle. This pulse of visual electricity opens up a small, hard-surfaced public place, a kind of hospitable cove, in front of the building. One could envision tables and chairs and conversations on this terrace.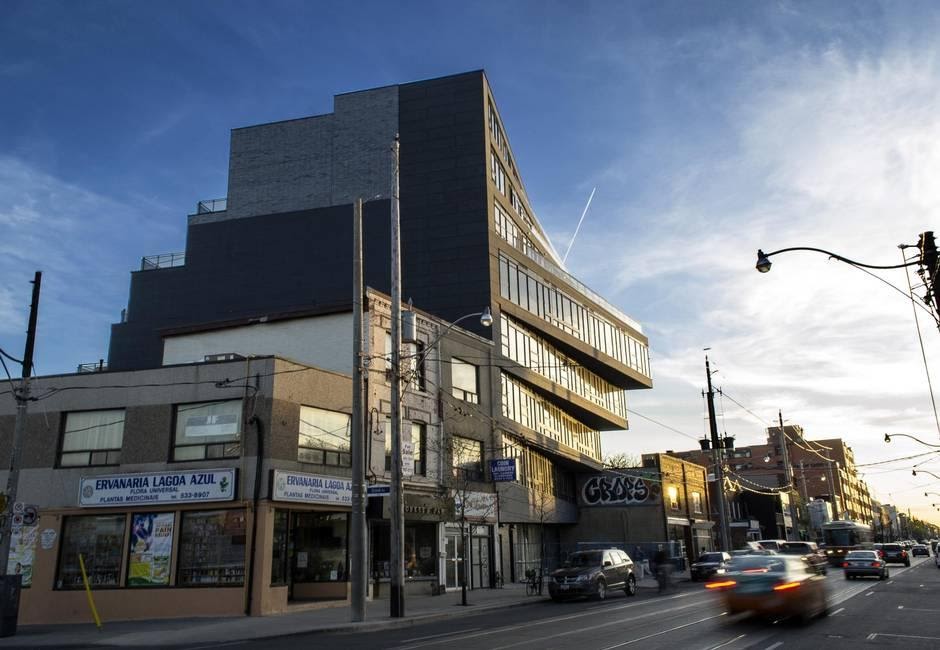 Above, the imaginative façade breaks open like a Swiss army knife. Each of the large upper levels swings out laterally from a hinge at the northeastern corner, exuberantly animating the otherwise tired, worn-down street. Mr. Witt has further distinguished Abacus from its brick-and-mortar surroundings by cladding the upper elements of the front with cement-fibre panels that are as dark and matte as sketcher's charcoal. The resulting abstract geometry is energetic, serious and in no way jarring. It has athletic grace, and muscular sweep that punctuates the streetscape with verve.
With backing from planners at city hall – Toronto's official plan foresees such an outcome – developers are raising ever more mid-sized, multi-unit dwellings on arterial streets and thoroughfares in the metropolitan area. Many of these interventions try to slip quietly into their slots in the city's largely mediocre fabric. Abacus Lofts is definitely one that doesn't.
THANK YOU!
Thank you for registering for updates. We've added your email address to our list and will send you updates as they become available.